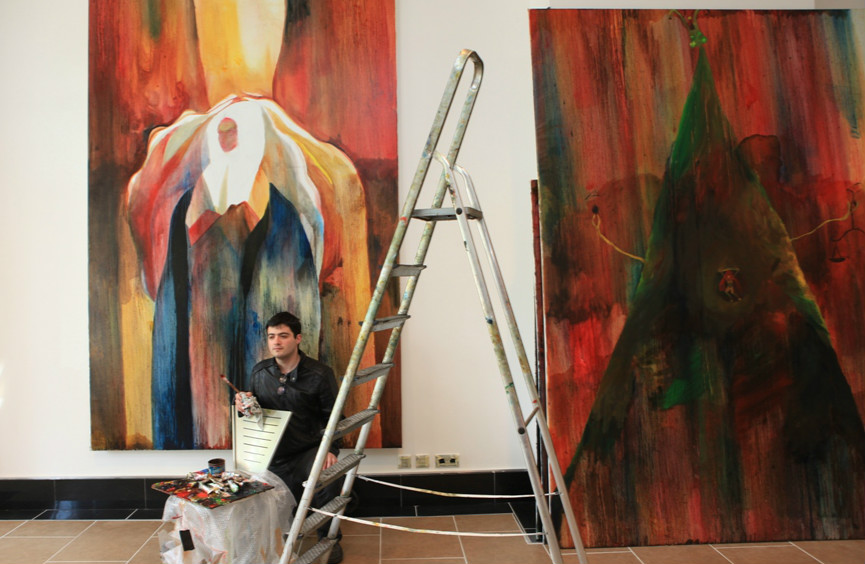 For a long time Yury Karchenko, born in Moscow into a Jewish family, did not know much about Judaism. The family was not religious, the socialist equality postulate with its latent anti-Semitism did the rest. As a teenager Yury emigrated with his family to Germany where it struck him like a bolt of lightning, in a double sense: He had just finished art school when he was beaten up by neo-Nazis: "Jew, have you got money, give us money," they shouted. "After that I began to deal with my cultural background for the first time."
Little by little he entered the cosmos of three millenia of Jewish history, culture and religiosity; for a while he lived in a yeshiwa, a Jewish high school in Berlin's Brunnenstraße and studied intensively Tora and Talmud, his "sources of truth." Ever since, three questions have been on his mind: "Where do I come from? Who am I? And: Where am I going?" At this point, he says, religion and art converge: "It is a matter of understanding the world and yourself." Quite deliberately he intends to merge the Jewish, Russian and German influences in his work and aims at an art that is less religious in a traditional sense rather than mystical-spiritual, like the work of Mark Rothko and Barnett Newman, the painters of the sublime.
Our selection of paintings represents eight years of the artist's work. The first pictures show vague sceneries with shadowy figures emerging from the darkness and chaos of a primordial world; yet soon after more precise themes evolve, such as "window", "curtain", and, above all, "house". The house as a home, a place of protection, security and identity – qualities that are of particular importance for the Jewish people who have always been migrating and on the run. "The shape is always the same – roof, walls – but changing colors indicate what happens inside: Now it is burning, then quiet, then insecure, just like life is." Finally there are, a little surprising, Catholic dignitaries, however – in the sense of Francis Bacon – in surrealist alienation, or as angels; Yury sees popes and cardinals as protectors of the arts, yet behind them, to be sure, stands forefather Abraham.
These works are characterised by a strong honesty and sincerity, one would like to speak of ardor, or enthusiasm, an expression that contains the word theos = god. The motifs stand between figuration and abstraction, they reflect opposites like light and shadow or inside and outside – in the way life is imprinted by ups and downs, birth and death. Yet there is also the intermediate realm of dreams and a sometimes ecstatic state between wakefulness and sleep. This flow is also symbolised by trickles of paint running down the canvases, as well as by the openness, the "breathing" of the paintings – an aspect for which the large format is so important.
Paul Gauguin's seminal work "Where Do We Come From? What Are We? Where Are We Going?" is an exemplary representation of Yury Kharchenko's central question. It is this tradition of symbolism – which is closely connected to surrealism – that the Jewish-Russian-German artist follows.
•
Please view the artist's work in our exhibition Figures & Faces, Part 1.
Biography
1986 born in Moscow, lives and works in Berlin
| | |
| --- | --- |
| 2004-08 | Kunstakademie Düsseldorf, Diploma |
| 2011-12 | Potsdam University, Ph.D course "Art philosophy in postmodern times influenced by Jacques Derrida" |
exhibitions (selection)
S = Solo shows
2017
Felix Nussbaum Haus, Osnabrück (S)
Saarländische Galerie – Europäisches Kunstforum Berlin
2016
Clara Maria Sels Galerie, Düsseldorf (S)
Jüdisches Museum Westfalen, Dorsten (S)
Nordheimer Scheune, Helmut A. Müller (S)
2015
Clara Maria Sels Galerie, Düsseldorf
Mirta Demare Galerie, Rotterdam
Bonnefanten Museum, Roermond
Ober Gallery, Kent, CT, USA, with Jasper Johns, AR Penck, Barbara Friedman and Donald Baechler
2014
Clara Maria Sels Galerie, Düsseldorf
Ilya Kabakov, Yury Kharchenko, Panamarenko, Alexander Brau, Bespoke, Düsseldorf
Kunstverein Dillingen, with Thomas Huber (S)
2013
Clara Maria Sels Galerie, Düsseldorf (S)
Mirta Demare Gallery, Rotterdam (S)
Schwartzsche Villa, Berlin (S)
Gerhard Hofland Gallery, Amsterdam (S)
Frisch, Halle am Wasser, Berlin (S)
Ober Gallery, Kent, Connecticut, USA (S)
Museum Kunst Palast Düsseldorf
2012
Chaplini Gallery, Cologne (S)
Jerusalem Artists House, Jerusalem
Kunstraum Kreuzberg Bethanien, Berlin, with Nezaket Ekici (S)
The London Jewish Museum of Art, London
Prima Center, Berlin (S)
Collection art from NRW, Aachen
Museum Kunst Palast Düsseldorf
2010
Art Cologne promotion booth (S)
Kunstraum, Düsseldorf
2009
Art Cologne Project, Russian Salon, with Vadim Zakharov and Anna Parkina (S)
Jiri Svestka Gallery, Prague
Otto Schweins Gallery, Cologne (S)
2008
Kunstmuseum Walter, Augsburg
2007
European Kunsthalle Project, with Tris Vonna-Michell (S)
Otto Schweins Galerie, Cologne (S)
Shuebbe Projects, Düsseldorf (S)
For further information please see the artist's website: Yury Kharchenko