A century ago, the art critic Karl Scheffler remarked that Berlin was damned "forever to become and never to be". Today, this familiar quotation is truer than ever before, and it is not the least that quality of the unfinished, a creative openness that during the last ten, fifteen years, has drawn artists from all over the world to Berlin and turned the German capital into an art centre of international relevance. After the artists there came their galleries, plus some capable collectors – unfortunately far too few, as the lament goes on and on.
Curiosity about pictures from this wonderland of art grew with its increasing significance. Quite a number of them were delivered by Dawin Meckel who published in major papers and magazines. These images are the basis of the project presented here. In the last couple of months some new portraits were added, exclusively of artists. In fact, the emphasis of this series is on the creative individuals: without artists no art, no scene…
Dawin Meckel was trained as a draftsman, and he worked in the field of documentary and reportage photography before he ventured into portraiture. This mix of experiences has shaped his very own style. Ostkreuz, the agency for photographers that he joined in 2004, offers him a compensation for the manifold commissions that bring him around the globe: a place of interchange with his colleagues and their diverse artistic concepts – a big stroke of luck, as he says.
With his portraits, Dawin Meckel follows an architectural approach, as it were: The space where the shooting is happening plays a key role. It takes him a while until he has scanned the room and is able to position the individual: Far-reaching lines give the composition structure and order. Then the person comes in and a game begins, a give and take between photographer and his counterpart.
First of all, trust must be built up, which is a challenge if one is not yet familiar with each other and only little time is available. How much closeness do the individuals allow? How do they want to present themselves? One person leaves everything to the man with the camera, the other one has prepared a complete concept with setting, body posture, gestures. Dawin Meckel keeps a certain distance, he does not want to come too close to his partners. He wants to document what is there rather than arrange a new scenery. At the same time he is concerned with capturing the right moment, the typical posture, the distinctive glance. Details such as tiny changes in habitus and facial expression might play a major role. In the end, thus Meckel's own demand, nothing must appear mannered or artificial, everything has to look natural.
Finally, the entire whole must be right: the perfect moment, the finished composition. It must become a picture. Meckel uses this word quite deliberately, putting it against the "photograph", the thing he produces when pushing the trigger. He strives to create something of general significance, an image that will survive the present moment. With these photographs he has succeeded. Our selection can in no way be representative for the entire Berlin art scene, nevertheless Martin Meckel has created images of artists, collectors, and managers that are of universal relevance for our time.
_
Dawin Meckel's photographs are availabe in two versions. Single photos come as fine art inkjet prints on Baryt paper in the format of 100 x 70 cm, including a 5 cm white edge. The edition is five plus two artist's proof. The price for each framed work is 2.000 Euros plus tax. The second version is a handmade box with eleven prints in the size of 42 x 30 cm, incl. a white margin of 2 cm. This edition is also five plus two a.p. The price: 3.240 Euros plus tax.
•
Please view the artist's works in our exhibitions Just Photographs and Figures & Faces, Part 1. For further information, please see the artist's website.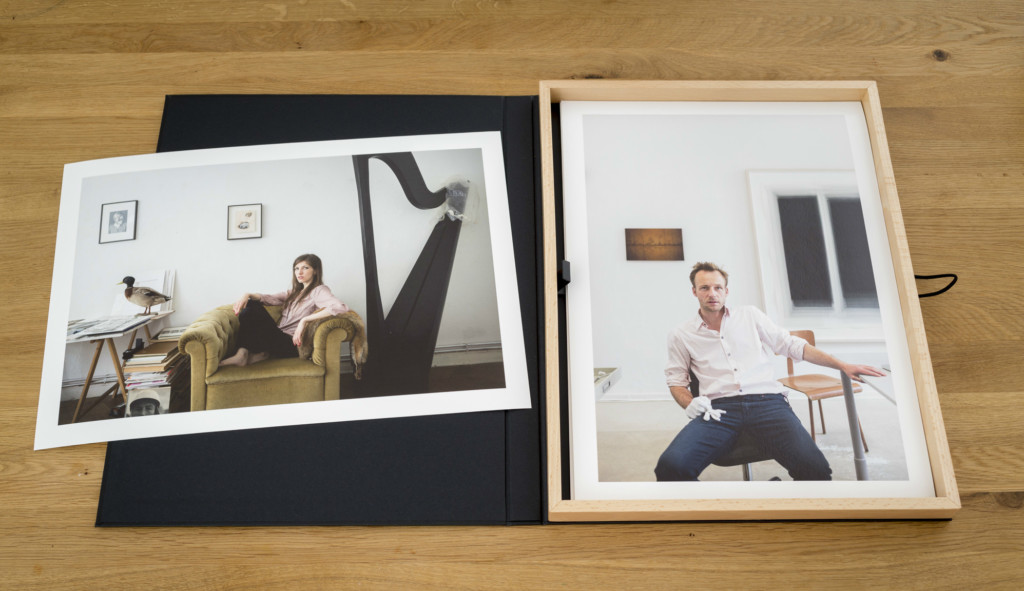 Biography
| | |
| --- | --- |
| 1977 | Born in Lich, Germany |
| 1996-1998 | Apprenticeship as a draftsman |
| 1998-2004 | Study of photography and film design at University of Applied Sciences in Bielefeld |
| Since 2004 | Member of OSTKREUZ – The photographers' agency |
Lives and works in Berlin.
awards
2013
Konrad Wolf Prize of the Academy of Arts as member of OSTKREUZ – Agentur der Fotografen
2011
Second winner of the European Architecture Photography Prize with "DownTown Detroit"
2005
Honorable mention at the Lead Awards, Category: Best photography feature in German magazines
Honorable mention at the Körber-Photo-Award on the issue "How do old people live?"
2004
Nomination for the World Press Photo Joop Swart Masterclass
Exhibitions
2016
»BERLIN RAUM RADAR – New Architectural Photography«, Neue West, Berlin
2013
»To the West«, OSTKREUZ Exhibition, C/O Berlin
»On Borders«, OSTKREUZ exhibition, Deutsches Hygiene-Museum Dresden
2012
»Malawi in Transition«, Fotodoks Festival, Stadtmuseum Munich
»Über Grenzen«, OSTKREUZ exhibition, Haus der Kulturen der Welt, Berlin
2010
»The City. Becoming and Decaying«, OSTKREUZ exhibition, C/O Berlin
2009
»Malawi in Transition«, Goethe Institute, Lilongwe, Malawi
2008
»Swakopmund – A Town in Namibia«, Alte Feuerwache, Berlin
»Same, same but different«, V8 Gallery, Cologne
2007
»Swakopmund – A Town in Namibia«, TeMBi Gallery, Yogyakarta, Indonesia
2006
»Neueinstellung – Images of Germany«, OSTKREUZ exhibition, 6th Photo Biennale, Central House of Artists, Moscow
2005
»Neueinstellung – Images of Germany«, OSTKREUZ exhibition, Pfefferberg, Berlin
»Swakopmund – A Town in Namibia«, Lead Awards, Deichtorhallen, Hamburg
»How do old people live?«, Körber-Photo-Award, Museum für Kunst und Gewerbe, Hamburg
»Swakopmund – A Town in Namibia«, 7th International Photography Days, Mannheim/Ludwigshafen
2004
»How do old people live?«, Körber-Photo-Award, Schloss Agathenburg
2002
"Straight Talk – Voices From the New South Africa", Photokina Students Gallery, Cologne;
bildwild Galerie, Bielefeld
clients
Editorial: ADAC Magazin, Amnesty International Journal, AD, Air Magazin, Art, brand eins, brand eins Wissen, Capital, Condé Nast Traveller, D-Magazine, Dummy, Effilee, Himmelblau, L'Express, Free Men's World, GEO, Gesund Leben, Greenpeace Magazin, Le Monde, Menschen, Mobil, NEON, Stern, Spiegel, KulturSpiegel, UniSpiegel, Time Magazine, Weltkunst, ZEIT, ZEIT Studienführer, ZEIT Wissen
Corporate: Berliner Sparkasse, design hoch drei, Dorten, Helmholtz Zentrum, Humboldt University, Kleiner und Bold, MAP – Moving Story, Meta Design, NOMOS Glashütte, Publicis Schweiz, Römer Wildberger, Soundcloud, Vivantes, Voith GmbH, We Do Communication