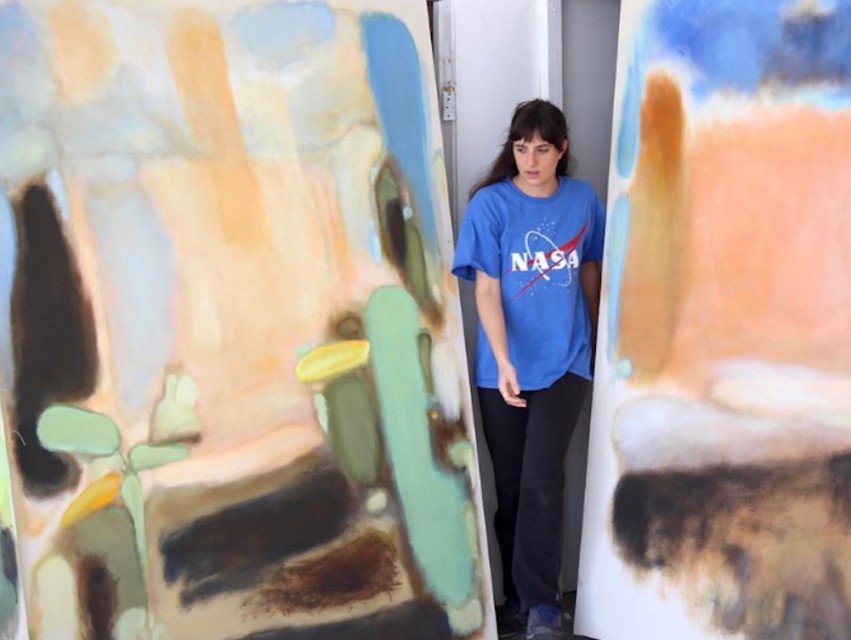 Sensuality, emotions, feelings, an erotic fusion with nature: these are the themes of the young French painter Juliette Sturlèse. In large, colorful pictures between abstraction and figuration she creates fields of energy and vibrations. Her subject matters are landscapes and the human being, mostly men, sometimes nude. The Pleasure of Walking on Grass, Naked is a telling title of one of her works.
One thinks of Ludwig van Beethoven's Pastoral Symphony and its first movement entitled Awakening of Cheerful Feelings Upon Arrival in the Country. The paintings create a deliberately seductive atmosphere. Vibrant and intense patches of color on large raw-looking canvas form into shadowy figures – that can also be mere color fields. In their blurriness they seem like images of memory or a dream.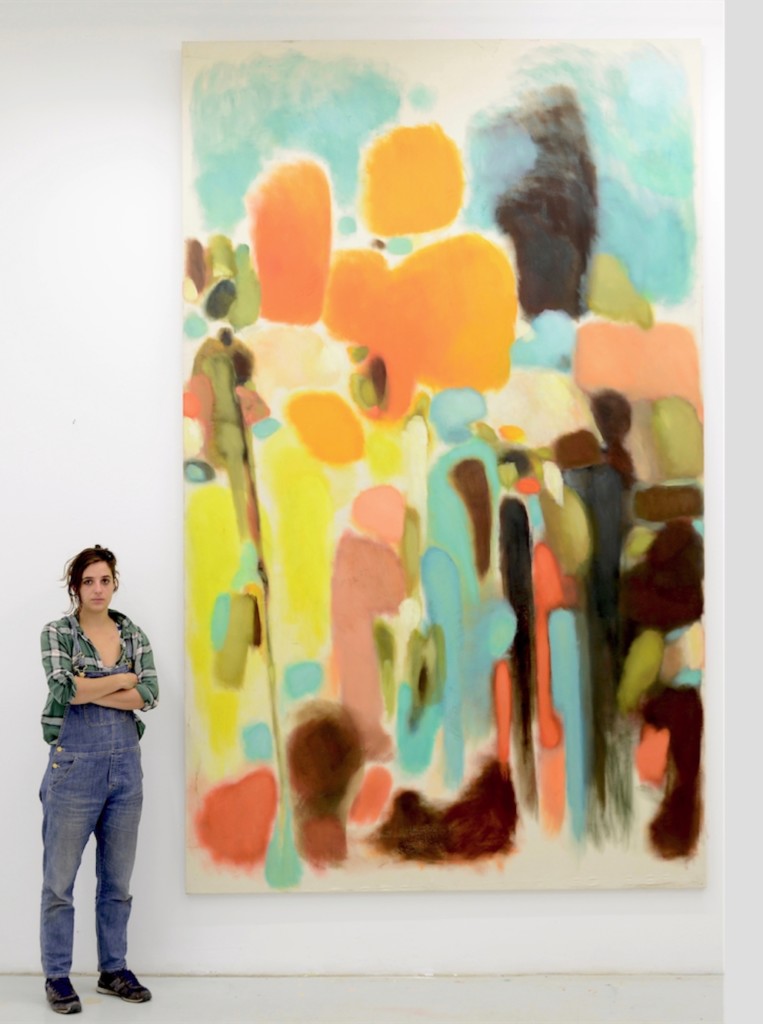 colors
"Everything must be vibration, movement," says the artist, "the power of gesture, the roughness of materials, the power of color. I am obsessively driven by colors and the painting medium. Oil paints are fantastic because of their intensity and subtlety. Unpainted canvas's spaces in my work are like a breath, similar to spaces in music or choreography. I work obsessively with the colors so that they become one with me." Her special use of oil paint is turned against tradition: "I paint dry and particularly dull, rather rough. And yet the sensuality is heightened."
The erotic fusion with nature, her central theme, not only conveys that "oceanic feeling", as Sigmund Freund called it, nature also means home to her. She has lived in Italy, Turkey, the United Kingdom and Germany, but the French countryside, be it the blazing sun of the south or the icy cold of a snowfield, is her home. Thus she is very naturally embedded in the great tradition of French landscape painting, from the school of Barbizon with Corot and Daubigny to the Impressionists and the Fauves.
american expressionism
Her second line of tradition is American Abstract Expressionism and Color Field Painting. One artist in particular influenced her: Joan Mitchell. She was 17 when she first saw her work,"and it was a shock – visual energetic shock – even more after realizing it was painted by a woman. At that time, I rarely saw paintings in museums done by women. I felt so free and powerful while watching it… I thought I want to be a painter."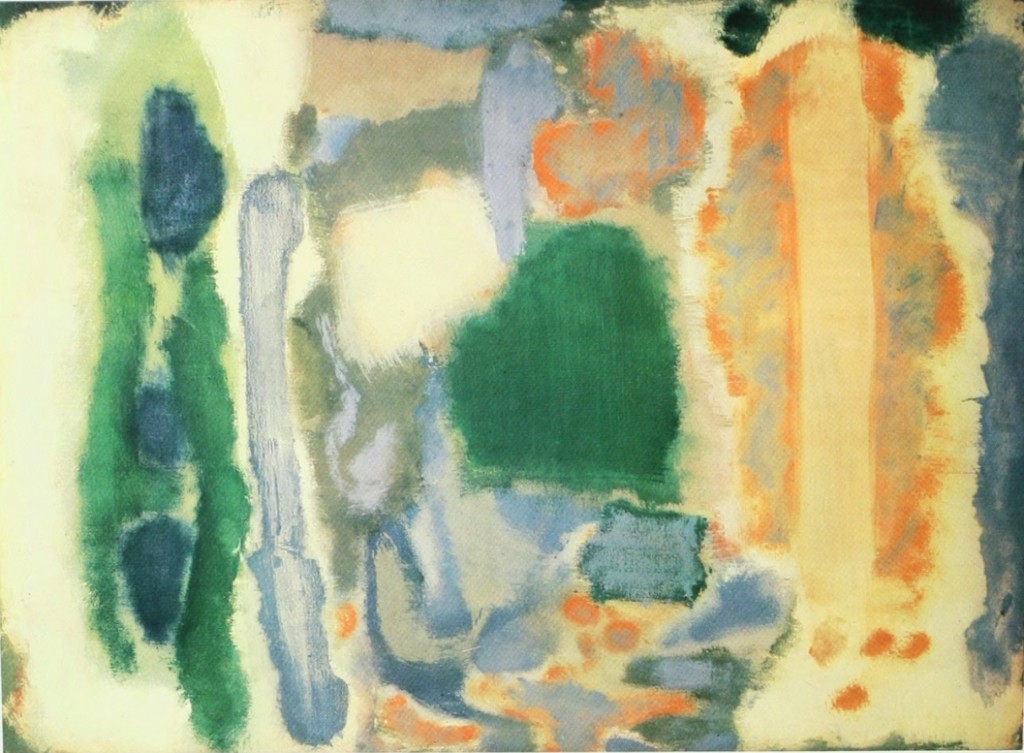 Helen Frankenthaler, who let the paint sink into the canvas and did not apply it thickly, should also be mentioned. Particularly striking is the proximity to Mark Rothko and his painter colleagues, who in the late 1940s slowly, step by step, detached themselves from the figurative and developed an abstract language. The similarity refers both to the organic-abstract forms and to the earthy, natural colourfulness as well as the diffuse borders of the colour fields.
And finally there is the unusually large format of the Americans. "Painting on very large formats helps me to lose myself into the canvas during the process," says the young painter. The physical motion as well as the large format also confirm the closeness to Jackson Pollock, who said that he "no longer knew what he was doing" when he was active in his "arena" of action painting.
dance
It fits that Juliette has been fascinated by dance and ballet since her childhood. "I wanted to become a dancer and spent lots of time since childhood and youth doing ballet. During school classes, you would find me maniacally drawing dancers and their movements", and even today, when the working process stops, she sometimes starts dancing in front of the painting. "I look for speed and I want to give the viewer an experience of strong sensation."
Her paintings arise out of movement – the body, not the head, directs the painting process: "I am defiant of concepts and ideas. I rather follow sensual and physical signals of the brain and the body but not necessarily the intellect. When I am in an interesting flow, my body knows which color to put where, without having to think it. Painting on very large formats helps me to lose myself into the canvas during the process."
politics
Her interest in social structures and developments led her to study law in Paris before turning to art. Thus the political aspect is also part of her paintings. "My work is questioning the feeling of freedom and desire within the women's perspective," and she speaks of the uncertainty that has gripped everyone: "all that we know is that we don't know." Thus, with the ambiguity of her images she turns against the terribles simplificateurs: "The images look blurred and don't allow reductive statements. They are deliberately ambiguous and therefore political."
In contrast to this the naked man: here precision is of the utmost importance. Juliette Sturlèse turns the tables and looks at and paints the man in the way the male eye has traditionally been seeing the naked female body: as an erotic, sexual object in an intimate context. As a challenge for the male heterosexual observer this image cannot be clear enough. This new female view of the male also means a change for the usual approach of the feminist movement, in which women artists were mainly concerned with their own bodies.
love
But the paintings go beyond an everyday politics. For Juliette Sturlèse, painting is "a statement of our presence's being on earth. I am more a metaphysical painter rather than a descriptive or conceptual painter. I wish to transport the people into an experience above the simple visual description or intellectual idea through sensuality. Creating some spaces and time in the mind for beauty and spirituality."
She compares this to the experience of love: "To answer to a curator's question at my studio the other day: But you can't pretend to only paint about love right? – Well, actually yes, I would answer. As long as the state of being in love is seen as a catalyzer of our deeper existential concerns." And about her painting We Were so Cold We Decided to Move to Chulilla she says that it deals with "the absolute belief in beauty in nature, and the distancing in our society today. And love, also and above all."
*
Please view the artist's works in our exhibitions Figures and Faces, Part 2, Landscape, so Beautiful! and Painterly Abstractions: The Grand Gesture. For further information please see the website of Juliette Sturlèse. If you like her work, you might also be interested in other artists in our gallery working in a similar way: Joanna Buchowska, Henri Haake, Christine Krämer, Aaron Rahe and in particular Marina Roca Die.
Biography
Juliette Sturlèse was born 1989 in Paris. She lives and works in Berlin and Sheffield, U.K.
education
2007-2011
studied Law, Master 1, droit privé, Université de la Sorbonne Paris 1 and CAVEJ
2012-2013
guest student, Accademia di Belle Arti, Prof. Simone Pellegrini, Bologna
2013-17
Studies in Fine Art, Weißensee Academy of Arts, Berlin, class of Werner Liebmann
2017-2019
grant of the Studienstiftung des deutschen Volkes
Making Waves mentoring program, Paul Morrison, Sheffield
2018
Diploma in painting, Weißensee Academy, Berlin
2019
Meisterschülerin, class of Werner Liebmann, Weißensee Academy, Berlin
Exhibitions
2020
Je veux ma table!, Reiter Galerie, Berlin
Open Windows, Square Gallery, London
Kunstverein Bagatelle Sentre, Berlin
2019
Vorstellungsgespräch, Reiter Galerie, Leipzig
Dark Lantern, Galerie Sabine Knust, Munich
Perfekte Zustande, Meisterschüler Exhibition, X-lane, Berlin
2018
Defying Currents, diploma exhibition, The Shelf, Berlin
New Painting, Museum Kesselhaus, Berlin
Bethlehem Boys Club, Sidney and Matilda, Sheffield
TO(UND)RA, collective/introduction, Sheffield
2017
Playlist, Erratum Galerie, Berlin
Ho2, SEZ, class of Werner Liebmann, Berlin
2016
YOK, Mimar Sinan Sanatlar Universitesi, Istanbul
2015
Cirrus and capillatus, Haus des Rundfunks, Berlin